Pulse 8
We began September with a Labor Day party at home. Kim felt good and she cooked up a storm and if you check your calendar, our party was on the 1st, Kim's first day of her pulse. We delayed the first day of her pulse until the 2nd, the day she started her aqua aerobics class. Kim said the class was hard but she finished it on day 1 of pulse 8. On day 3 she had her second class and it went much better. She also had a couple falls on the first day, but recovered the following days. Kim tends to push her limits, which is good – she's always looking to be reaching higher. I really, really respect this quailty in Kim. On Day 2, 3 and 4 Kim had chills. She also had Avoneskish night sweats one night. Kim said that she was not ambitious on day 4. She was disappointed with herself for taking a nap despite having work she wanted to do in the house. Days 5 and 6 were better for Kim, no falls and no chills. I've also noticed that Kim is doing much better at walking up the stairs in this pulse. Day 7 Kim had chills, but was otherwise doing fine.
Aqua Aerobics
It's really a terrific thing. The boys are back in school and the first thing Kim wanted to do was sign up for aqua aerobics. Kim finds being in a class motivating. She also is one of the younger members of the class, yet finds the determination of the ladies there inspiring. We have talked about it a few times and I saw an analogy with Rica. I see Rica pushing herself to get better and find new improvements. I don't see
Rica
solely waiting for the ABX to fix everything for her. I think the Aqua Aerobics class is just a start, but I'd say that continuing to be motivated to push your limits seems to be important.
I suppose another way of saying this is; ABX can't do it alone. Much of the anecdotal measures we have here are impressions or accomplishemnts that are grouned in overcoming challenges. If we don't continue to challenge ourselves, it's much harder to feel and see results. No one is going to teleport us from point A to point B, we have to walk the walk and that requires personal effort. The amount of pride and feeling of personal accomplishment is directly proportional to the effort and struggle expended. I am so very proud of Kim's desire to take this Aqua Aerobics class.
Vitamin D
I didn't know it came in "flavors", D2 and D3. I've learned from web research and posts at CPn that D3 is the one that's better. I e-mailed Dr. Sriram and he said that it was fine to stay on the 6000IU D3 per day instead of switching to the 50,000 D2 per week.
Walk Chart
Kim's getting real good with the weekly walk. It's almost as if she has a weekly Olympic competition that she gears up for. She's figured out that she walks faster after eatting. Just for disclosure purposes, I start the watch when Kim's got her first step going and I click the stop when she's steped on the mat on the other side. We could argue about me not being Swiss, but I figure it's the same person with the same watch doing the same thing over time – so there is informal consistency. The watch measures hundredths of a second but the goal isn't to be Michael Phelps, the key is in establishing a trend which is clear when charted.
Walk Date ______ Seconds ____ 8-Week Change
02/17/08 ________ 10.53 ________
02/25/08 _________ 9.63 ________
03/03/08 ________ 10.91 ________
03/09/08 ________ 16.75 ________
03/16/08 _________ 9.46 ________
03/22/08 _________ 8.59 ________
03/30/08 _________ 8.06 ________
04/06/08 _________ 9.34 ________
04/11/08 _________ 7.81 _________ 25.8%
04/20/08 ________ 10.81 ________ -12.3%
04/27/08 ________ 12.28 ________ -12.6%
05/04/08 _________ 8.97 _________ 46.4%
05/11/08 _________ 7.81 _________ 17.4%
05/19/08 _________ 6.60 _________ 23.2%
05/31/08 _________ 6.50 _________ 30.4%
06/08/08 _________ 5.78 _________ 26.0%
06/15/08 _________ 6.03 _________ 44.2%
06/22/08 _________ 6.16 _________ 49.8%
06/30/08 _________ 6.06 _________ 32.4%
07/13/08 _________ 7.72 _________-17.0%
07/19/08 _________ 5.19 _________
07/26/08 _________ 5.53 _________ 14.9%
08/03/08 _________ 4.72 _________ 18.3%
08/10/08 _________ 5.35 _________ 11.3%
08/17/08 _________ 5.50 _________ 10.7%
08/24/08 _________ 4.91 _________ 19.0%
08/31/08 _________ 4.84 _________
09/07/08 _________ 4.62 _________ 40.2%
09/14/08 _________ 5.06 _________ 02.5%
09/28/08 _________ 4.78 _________ - 1.3%
I notice that Kim's improvements were greater in the early walks and now that we are closing in on 4.5 seconds, we have to acknowledge that there is likely a limit to how much faster anyone can walk without running. We also need to focus on style, which is hard to measure. Some walks are more linear and others might have a little skew. Some walks tend to be klompier than others too. In any case, making the comparison with Fampridine is slowly becoming useless unless they publish results that extend the effects beyond 8-weeks.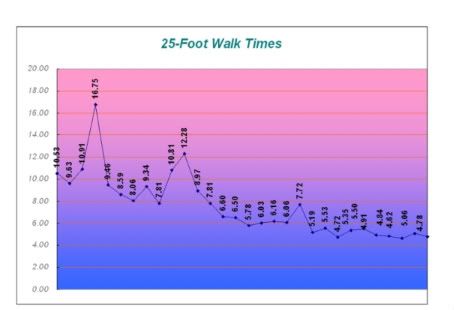 This last weekend, Kim's walk was very steady and sure. She didn't curve askew. The 4.78 seconds doesn't quite reflect how terrific her walk was.
Bump in the Chest
Over the last couple months Kim's got little bumps on her chest that have given her fits. It's like an area of them, not just one or two, like she has an area of course grit sand paper stuck on her chest. Does anyone know what this is?
Reading Journals Again
I'm back to reading stuff again. Recently another discussion here at TIM's got me interested in how humidity effects disability. Remembering the
chart
of how MS is more common in northern places, I wondered about CPn in this way. I'd love to get ahold of a copy of the full paper, "
Transmission of Chlamydia pneumoniae
", which apparently contains the following conclusion that I found
elsewhere
. (I was searching the webpage for the word humidity)
Quote:
"Although under conditions of high relative humidity the infectivity of Chlamydia pneumoniae in the open air decreases rapidly, suggesting a direct mode of transmission under these conditions, it is probable that the transmission occurs in some cases indirectly since the microorganism can survive for up to 30 hours in a hostile environment (Falsey et al., 1993)."
……but then I also found a paper titled, "
Influence of Temperature and Relative Humidity on the Survival of Chlamydia pneumoniae in Aerosols
", which says:
Quote:
"The percent survival of C. pneumoniae in aerosols was highest at high RH and at temperatures between 15 and 25°C. Dehydration appeared to be an important factor in the inactivation of C. pneumoniae, whereas extreme temperatures had a more limited influence on survival."
Subsequently, I found a
Way Better MS Map.
I'd love for someone to explain these seemingly variant explanations.
"Your Faith Will Be Tested"
Sometimes I get so positive and encouraging and I lose sight of the fact that Kim has down times too. MS spouses need to know this. It's human, it's normal to have a down day; it's ok to feel discouraged. Kim just updated her blog (
Kimscupoftea's Blog
) this month and she noted how she could relate to the discouraged feelings of another ABX'er. Coincidentally, I have been reading "The CEO and the Monk", which among other things briefly discusses a monastic term of old, "
The dark night of the soul
". Yes, it's kinda religious, but the concept is absolutely applicable to downtimes and most especially (with a few wording substitutions) to discouragement on ABX:
Quote:
When I was in the monastary, my spiritual director, Father Theodore, would occasionally talk to me about "the dark night of the soul." It was a term used by the monks of old to describe the shadow side of an individual's pursuit of personal holiness. This was a period of time marked by self-recrimination, discouragement, and a lack of hope. This arid wasteland of spiritual depression could last for weeks or sometimes months and was an inevitable part of one's interior journey. "Your faith will be tested and you will feel lost and abandoned," was the way he put it.
It's things like this that really give me perspective.
Ken