First I wanted to clarify that I am not trying to turn this into a diagnostic site, I am just trying to identify some images that might get my doctor to pay attention. I have no idea if the image I posted really shows a stenosis, but it sure looks like a narrowing of one vein to me. I have been studying the MRV frame by frame, and looking at whatever else I can find to compare it to (Ginger, Sammy Jo, Manoj, thanks) and searching out medical sites that give some info. on how to interpret these things.
Here is how my discussions of CCSVI with my GP have gone so far:
First appointment (before the American study was released)
She said there had only been one study done and that we are 10 or 15 years away from knowing if there is anything to CCSVI.
She mentioned that another of her patients was determined to seek diagnosis and treatment at Stanford. She all but rolled her eyes, and made it clear she thought that was foolish.
She said that she had no idea who she could refer me to.
Second appointment (after release of American study)
She mentioned that she thought they were looking for plaques (indicating she had no idea about CCSVI and had not seen any of the news or other reports about CCSVI)
She was not interested in the MRV which I had done in Mexico.
She read the english translation of the Conclusions part of the report and dismissed it. (I posted the conclusions on another thread started by someone else)
She did not know who she could refer me to and suggested I ask my neurologist to refer me to someone if I wanted to follow up with the MRV.
Third appointment
She reluctantly looked at the series of images including the one I posted at the beginning of this thread. She admitted that there could be a problem, but that it could also be nothing.
At my insistance she agreed to refer me to a vascular surgeon.
She has not followed up with this 3 days after my appointment.
Have copied a few more images...have never used a social networking site of photosharing site before...so it is slow work..copying images, painting over the name (not comfortable with my name being published), then one by one, sending them to photobucket, then posting them here. There is probably a better way, but I am not computer saavy, or wise in the way of the web!
[img]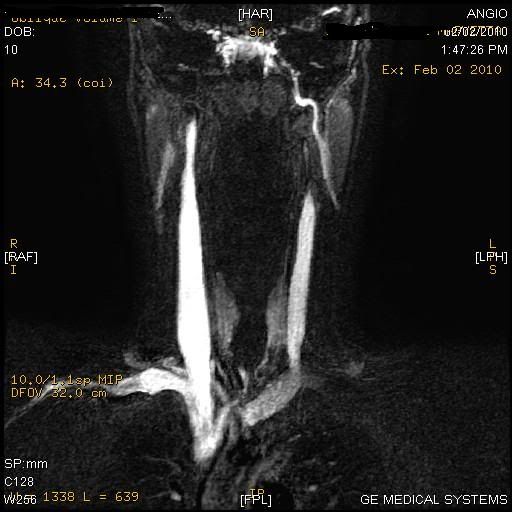 [/img]