I do, unfortunately, have plans today, so will have to return to this conversation later. One of the things I value about Dr. Rose -- and this is true of our Lyon as well -- is that we may disagree but we can do so intelligently. Lyon and Dr. Rose both bring some good points to the table, they just wrap them up in so much skepticism and mockery and declamations, it is hard to get to the good stuff.
Quickly....my improvement that can be measured would be my vision improvement. Six days post procedure, I found myself getting headaches and having difficulty with my contacts. Eight days post procedure, I went in to the optometrist. Measured by the autorefractor, my vision had improved. This was confirmed with the "does this look blurrier or does this look blurrier?" test. I had to order new contacts, my right eye has improved from -4.75 to -4.5. I have both optic neuritis and pars plenitis, two eye conditions strongly associated with MS.
My MRIs are exceedingly stable, for which I am grateful, but the expectation at my next MRI given my disease course already would be that there is no change and no new lesions.
I can discuss my anecdotal improvements later, if you are interested. Colors brightened immediately, which was a surreal experience, and the explanation that seems viable may be that it was due to a lifting of hypoxia and related hypoxia-induced color impairment as seen at high altitudes and in certain other disease processes.
As for pressure, we have heard from the beginning from Dr. Sclafani that it is not about pressure, it is about flow. Here is a diagram on flow: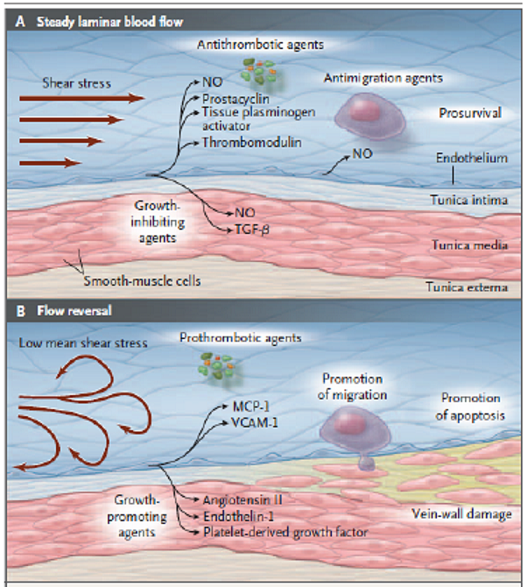 The effects of the low mean shear stress weakens the blood-brain barrier. Pre-CCSVI, this had always been an unanswered question in MS: what weakens the blood-brain barrier in the first place?
We might not have all the answers, but this is worth investigating further. So much money is spent on MS research already, following the slightest of leads. This is a disease people care about. CCSVI has the potential to be a big lead, I am excited to see where it goes.