OK, so I used to be an actual runner who ran ten miles every day before starting my rapid slide down the giant razor blade of multiple sclerosis, but this was still incredibly exciting for me. I "ran" this thing with my arms.
My son (age 12) and I decided to do this local zombie run. A local filmmaker wanted to have regular runners running from zombies, to have extras for a film he's doing. I thought, well, what better way to make an attempt at trying to get back into sports than to do a run where you're *supposed* to look like you can't move right? So we entered as zombies - my son dressed as an undead doctor in scrubs, and me as an undead hospital patient -- the perfect way to work in my wheelchair.
The irony of being seemingly resurrected into a "regular" sporting event by being a zombie, rising from the dead -- YOU JUST CAN"T KILL US MS PEOPLE! -- was not lost on me, so I wore the hospital band from my CCSVI procedure, to complete my outfit. I also had a bright red biohazard bag pinned to my nightgown in which to keep my iphone.
I honestly did not know what to expect, and I did not know if I should even have tried to do this. I was the only wheelchair participant there, but people were really excited to see a wheelchair zombie. I decided to go with the excitement energy.
The regular runners had little red ribbons dangling from their torsos, and to "kill" them the zombie runners had to grab a ribbon while running. This seemed impossible for me, since I had to use my hands to keep moving. So at one portion of the race course, I took a cut-through and then hid behind trees, etc., so I could surge out at the racers and use their shock to gain an advantage. I actually did make a couple of "kills," to everyone's delight, and I then concentrated on finishing the course, with the kill ribbons brandished between my teeth, zombie-style.
Everywhere I went people were so excited to see someone doing the race in a chair, and I kept hearing them yelling for me. I appreciated every bit of encouragement -- it was SO HARD. I felt like time disappeared and I was just in this zone where I was alone with myself and the sounds came from far away, and I was just feeling my body and my heart and my throat and just thinking, I can do this, I can finish this!
Incidentally, you should know that I have a manual wheelchair, ultra-lite, that also has power-assist wheels -- so it's not a power chair, but I had some help from the power-assist or I could never have done this at all, since the streets where I live include some very steep slopes. My arms don't have much strength. I also have had a very hard time with trunk strength, just staying upright, as well as balance. And then there was the aerobic element. This was a whole body effort!
Long story short, I know it was only 3k, but it felt like a marathon to me -- but I did do it, and I wasn't even the last one through the finish. (Someone told me that two people came in after me.) I am SO SORE and stiff but I am exhilarated. After we came home and I got clean and washed my hair, I sat outside in the sun and thought, wow, I really feel alive!
Compare -- last year, at Halloween, I was lying down in bed: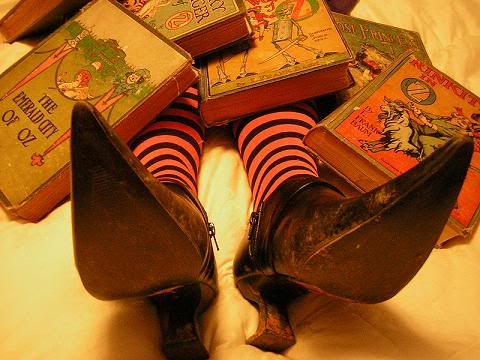 This year, rising from the dead!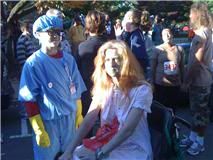 [/img]