I found this really helpful, particularly after our discussions in the last few months of intimal hyperplasia, since what is going on when there is turbulent blood flow looks a lot like intimal hyperplasia even before any procedure is done: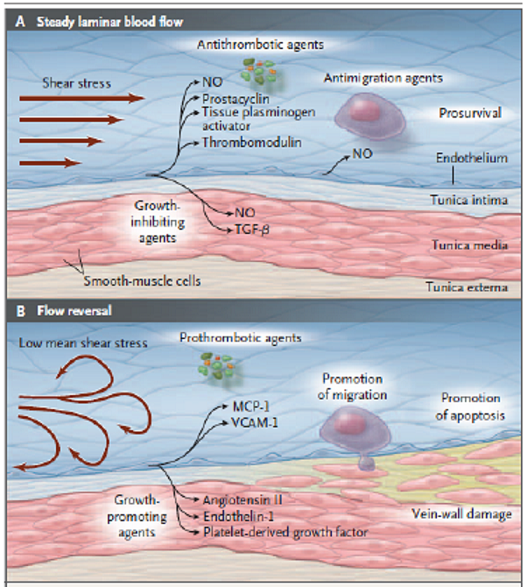 It's from this URL but too small there:
http://tinyurl.com/6xzyw29
from this research article:
www.nejm.org/doi/full/10.1056/NEJMra055289
The top one is how the vein flow should be, the bottom one is us with our CCSVI veins. All those growth-promoting agents? That's the same as in intimal hyperplasia, the vein's response to injury, which is to grow thicker.
This is why I believe our CCSVI malformations are both malformations from birth (as agreed upon by the consensus of phlebologists) and that they worsen over time (as has shown up in imaging studies). CCSVI promotes the worsening of CCSVI.
I am not sure if the site of vein wall damage represents thickening or sloughing off of dead cells ("promotion of apoptosis.") But if it is vein wall damage, the body's response to vein wall damage is intimal hyperplasia, and the CCSVI stenosis would grow thicker.
"Promotion of migration" would be the increase in adhesion molecules and greater likelihood of white blood cells and who knows what making it past the blood brain barrier onto delicate tissue.