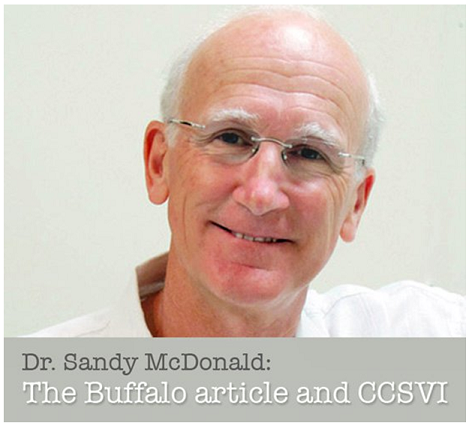 Dr. Sandy McDonald: The Buffalo article and CCSVI
by CCSVI in MS Toronto on Saturday, April 16, 2011 at 9:04am.
The role of CCSVI in multiple sclerosis remains unclear. A very heated debate has polarized the medical and patient communities. The recent press release from Dr. R Zivadinov and associates has only lead to further confusion. The University of Buffalo study does however answer one important question: is CCSVI clearly associated with MS? This study showed that 55% of MS patients studied have CCSVI. 22% of healthy controls also have CCSVI. It should be noted that some first degree relatives were part of the normal group -there is a trend for MS to run in families- so using family members as controls was not optimal. That notwithstanding the study clearly demonstrates an association between CCVSI and MS. Several other authors have found evidence of CCSVI in upwards of 90% of MS patients tested.
The Buffalo study also shows that patients with Clinically Isolated Syndrome (patients that have had only one MS episode) have a 38% incidence of CCSVI, those with more advanced MS have an incidence of 80% incidence of CCSVI. It seems reasonable to conclude from the data that CCSVI when present can lead to a much more progressive form of MS. The study however fails to determine if treating the CCSVI component will have any effect on the progression of the MS symptoms.
The supposition that the venous anomalies may be caused by MS is difficult to understand. Recent work by Dr. BB Lee at Georgetown University clearly shows that the origin of CCSVI is congenital (in utero) and is not caused by environmental insults occurring after birth or the MS disease process itself.
Data presented by Dr. M Mehta in March 2011 assessed the effect of treating CCSVI with balloon angioplasty. He reported a significant improvement in the quality life score post treatment with angioplasty. Other research by Dr.'s K Mandato and G Siskin looked at the safety of using balloon angioplasty in the treatment of CCSVI-they documented a very low complication rate. These studies taken together suggest that balloon angioplasty is safe and can indeed improve the quality of life in patients suffering from MS--(shouldn't that be our goal).
Clearly more research is required to determine whether treating patients with CCSVI (using balloon angioplasty) will have a beneficial effect on the quality of life in those people suffering from MS.
Some people with rapidly progressive MS have no treatment option available-should these individuals be offered balloon angioplasty on a compassionate basis? The suicide rate in the MS population is much higher than the national average. Approximately 400 patients die from the complications of MS annually.
In light of this information a well designed research trial using balloon angioplasty as treatment for CCSVI should be conducted in Canada.
Sandy
Thanks C