I didn't even catch the inverted valve. Although that could have been better drawn, it still conveyed the notion that the vein is blocked.
David, I can't quite picture a valve inverting like that, if it wasn't already that way from birth. Even if it did, once the flow normalized, there would be pressure pushing it forward back the right way. It's still an interesting thought. I have heard here at least one anecdotal report from someone who had been told she had inverted valves. One of the more interesting images I have seen was of a valve that was "sideways" (neither normal nor inverted but sideways on the vein).
HappyPoet, I'm giving your image a try, since you have it bigger now but blurry.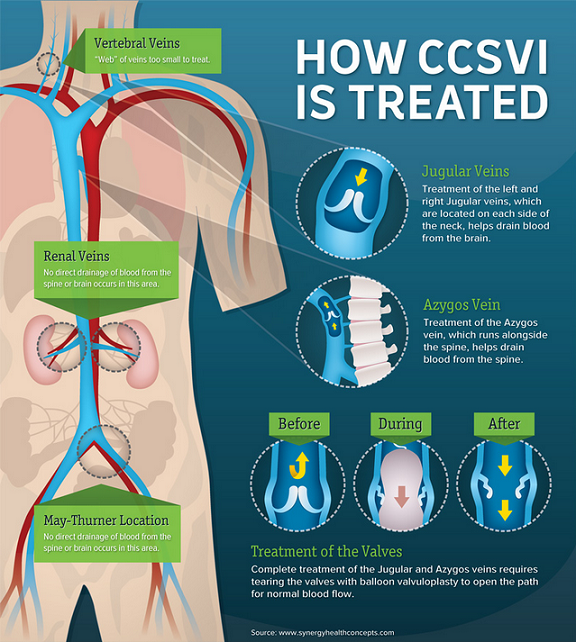 I agree with what it says about the vertebral veins being too small to treat.
For both the renal vein and the "May Thurner location" aka iliac vein, it says, "No direct drainage of blood flow from the spine or brain occurs in this area." I would say it is correct that there is no direct drainage. The renal vein does not drain the brain nor the spine. The iliac vein does not drain the brain or the spine. No one is arguing that it does. The significance of the renal and iliac veins is that, when blocked, the flow that would normally have gone through these veins is instead diverted to a vein that DOES drain the brain or spine, which is to say, the azygous vein.
However I do think the graphic is very clear, and it is in keeping with what has been previously presented of Dr. Arata's ideas on CCSVI. When first learning about CCSVI, I didn't know where my azygous vein was. Nor did I know that in many cases the problem area would turn out to be at the base of the jugulars, at the bottom of the neck, a surprising distance from the brain itself.