http://physiologyonline.physiology.org/ ... 4/166.full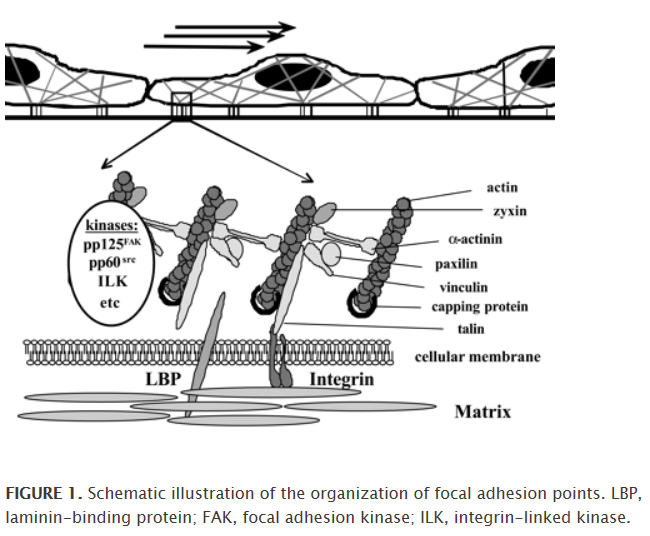 The image does very little to help me understand this. But if you have heard that reduced shear stress causes an increase in adhesion molecules, and you have thought,
I know what shear stress is but what is an adhesion molecule
, there it is. The arrows in the top image demonstrate shear stress, which should be one-way, but in pwCCSVI can be all turbulent and disturbed. The lined-up cells that look a bit like fried eggs, three in a row, still in the top image, are the endothelial cells. On the bottom of each endothelial cell are the dashed lines, as if those fried eggs had centipede feet, and those are the adhesion molecules.
Here's a quote on it:
Because of their special position, endothelial cells are ideally suited for sensing changes in blood flow velocity, which cause differences in shear stress. These changes in shear stress are directly responsible for numerous cellular responses, like release of autacoids such as nitric oxide, prostaglandins, and the endothelial-derived hyperpolarizing factor, which are all necessary for rapid adaptations in vessel diameter. Beside these fast and acute reactions, there are also known long-term responses that result, for example, in altered gene expression. According to a widely accepted hypothesis, shear stress is sensed by endothelial cells in so-called focal adhesion sites (Fig. 1) (9). These are structures in which clustered matrix receptors meet the cytoskeleton via certain linker molecules. Changes in their composition and/or cellular tension lead subsequently to the activation of kinases, which in turn initiate appropriate signaling cascades for altered gene expression.
It doesn't make me think,
eureka, I understand!
But it is useful to know that there are complex effects from disturbed blood flow.
edit: to be clear, the specific place where these endothelial cells and adhesion sites are being affected by the disruptions in shear stress caused by CCSVI is in the blood brain barrier, which is the endothelium or wall of the capillaries of the brain. In the autoimmune theory of MS, there was never an explanation for why the blood brain barrier was weakened, although it was known that it was. In CCSVI, we have an explanation.