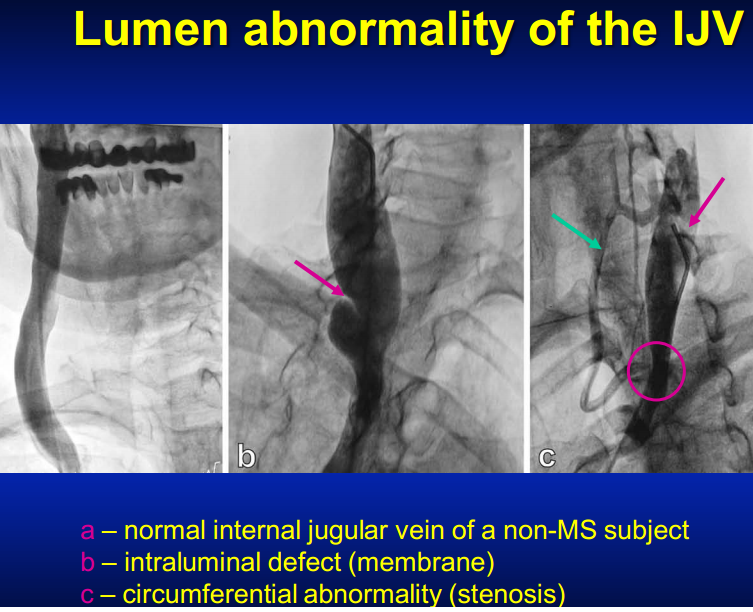 Here's an image from the presentation linked above.
Is (a) normal in appearance? It looks that way to me. Even when a vein looks good at first glance, there can be that characteristic funnel effect that is somewhat hidden. (Flow comes up under the 'wings' of the valve, thus making it look like the vein is normal when really the flow is narrowed to pass between the funnel, which can be seen as an area of darker contrast within the lighter contrast.) But I don't see that here.
Is (b) an intraluminal defect and, specifically, a membrane? The vein itself looks distended. The pink arrow is pointing to a white line. It's in the area where valves are commonly found. I am not sure what is meant by membrane, as this looks to me like a stiff valve. An IVUS image would be of use in determining exactly what the intraluminal defect is, but it's clearly an intraluminal abnormality. Intraluminal meaning within the vein. The vein wall itself is not the stenosis, it's the white line within the vein that is the stenosis. In this image, it's difficult to see contrast effects, but those would have been seen in the real-life moving image. I am curious, for how big that distended vein appears, how much of an opening there actually was at the area of stenosis.
Is (c) a circumferential abnormality? I believe this means an actual stenotic vein wall at the area marked with a pink circle. Does anyone know what is being shown by the pink arrow? Is there a lightening of contrast there? The blue arrow is clearly intended to show that the contrast is escaping down a collateral vein. Because the pink circled stenosis is in the area of the valves, I am inclined to disagree with the diagnosis that this is a vein wall stenosis because it could be yet another valvular stenosis. Either way it does appear to be a stenosis. In normal IJVS, there can be some natural narrowing before the IJV juncture with the innominate vein, but the presence of the collateral and the apparent high percentage of narrowing makes this seem like a stenosis that qualifies to be treated with ballooning.