Anonymoose wrote:
Cece,
You already have the Sesame Street version of csf flow on tims. I should have known.
chronic-cerebrospinal-venous-insufficiency-ccsvi-f40/topic18752.html
Great explanation. Thanks!
But do you see this quote from that link?
Quote:
The latter was pretty but not intuitively understandable to me...
That was me trying to admit that I don't understand CSF flow!!
Quote:
Step 1: Choroid plexus in the lateral ventricles produces CSF.
Ok, but what is a choroid plexus again? How and why does it produce CSF?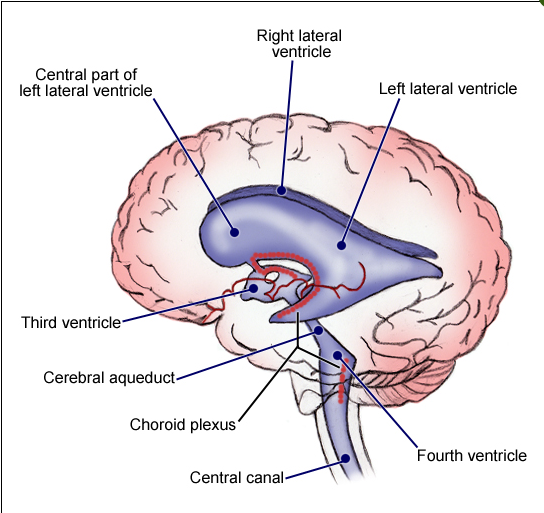 http://emedicine.medscape.com/article/1923254-overview
I'm not sure I'm ready for Step 2 yet but ok moving on
Quote:
Step 2: CSF flows through interventricular foramina into third ventricle.
Third ventricle is enlarged in MS.
Quote:
Step 3: Choroid plexus in the third ventricle adds more CSF.
Now the choroid plexus is in third ventricle too? Choroid plexus gets around.
Quote:
Step 4: CSF flows down cerebral aqueduct to fourth ventricle.
"cerebral aqueduct" is in the image above
Quote:
Step 5: Choroid plexus in the fourth ventricle adds more CSF.
Quote:
Step 6: CSF flows out two lateral apertures and one medial aperture.
Step 7: CSF fills subarachnoid space and bathes external surfaces of brain and spinal cord.
Step 8: At arachnoid villi, CSF if reabsorbed into venous blood of dural venous sinuses.
The bathing of the brain and spinal cord is its main task. Reabsorption is into the dural sinuses, which drain into the jugulars.