http://www.opticsinfobase.org/boe/fullt ... &id=260788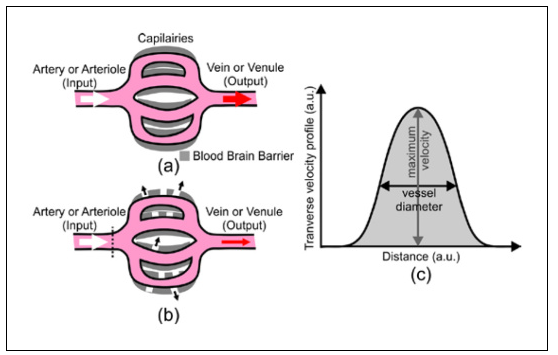 Fig. 1 (a) Hypothetical illustration of the blood flowing through an artery (or arteriole), capillaries and a vein (or venule), subsequently, in the condition of intact BBB. (b) Same representation for a compromised blood brain barrier, wherein the venous output (red arrow) is decreased. The input and output blood volumes are represented by white and red arrows, respectively. (c) Hypothetical transverse velocity profile along the dotted line (b) and definition of the different parameters measured and analyzed in this study. The maximal velocity amplitude is represented by the vertical arrow, the vessel diameter (full width at half maximum) is represented by the horizontal arrow, and the area under the transverse velocity profile is represented by the shaded area.
(known fact) In MS, the blood-brain barrier is often damaged.
(fact from this article) When the BBB is compromised, venous output is decreased. This is because of leakage.
Anything that further decreases venous output would be a problem in an already compromised venous drainage system.
This is a difference between the healthy controls with CCSVI and the MS patients with CCSVI. Even if all venous blockages were equal, wouldn't the MS patients with CCSVI have worse flow than the healthy controls with CCSVI because of the effect of the compromised blood-brain barrier on flow? I don't know how great the effect would be, it could be negligible.