http://onlinelibrary.wiley.com/doi/10.1 ... 8/abstract
Aqueductal cerebrospinal fluid pulsatility in healthy individuals is affected by impaired cerebral venous outflow

Clive B. Beggs PhD1,*,
Christopher Magnano MS2,
Simon J. Shepherd PhD1,
Karen Marr RVT, RDMS2,
Vesela Valnarov MD2,
David Hojnacki MD3,
Niels Bergsland MS2,
Pavel Belov2,
Steven Grisafi BS2,
Michael G. Dwyer MS1,
Ellen Carl PhD1,
Bianca Weinstock-Guttman MD3,
Robert Zivadinov MD, PhD2,3

Article first published online: 8 NOV 2013

DOI: 10.1002/jmri.24468


Purpose


To investigate cerebrospinal fluid (CSF) dynamics in the aqueduct of Sylvius (AoS) in chronic cerebrospinal venous insufficiency (CCSVI)-positive and -negative healthy individuals using cine phase contrast imaging.


Materials and Methods


Fifty-one healthy individuals (32 CCSVI-negative and 19 age-matched CCSVI-positive subjects) were examined using Doppler sonography (DS). Diagnosis of CCSVI was established if subjects fulfilled ≥2 venous hemodynamic criteria on DS. CSF flow and velocity measures were quantified using a semiautomated method and compared with clinical and routine 3T MRI outcomes.


Results


CCSVI was associated with increased CSF pulsatility in the AoS. Net positive CSF flow was 32% greater in the CCSVI-positive group compared with the CCSVI-negative group (P = 0.008). This was accompanied by a 28% increase in the mean aqueductal characteristic signal (ie, the AoS cross-sectional area over the cardiac cycle) in the CCSVI-positive group compared with the CCSVI-negative group (P = 0.021).


Conclusion


CSF dynamics are altered in CCSVI-positive healthy individuals, as demonstrated by increased pulsatility. This is accompanied by enlargement of the AoS, suggesting that structural changes may be occurring in the brain parenchyma of CCSVI-positive healthy individuals.
This is new research from Dr. Beggs et al. They looked at healthy individuals, not MS patients. So this means studying CCSVI in itself, not CCSVI in multiple sclerosis. This is a good and necessary separation.
The healthy individuals with CCSVI had increased cerebrospinal fluid pulsatility in the AoS along with enlargement of the AoS. AoS is short for aqueduct of Sylvius. Not being a neurologist, I need a google image search to identify what the aqueduct of Sylvius is, and here we are:
http://www.nervous-system-diseases.com/ ... nosis.html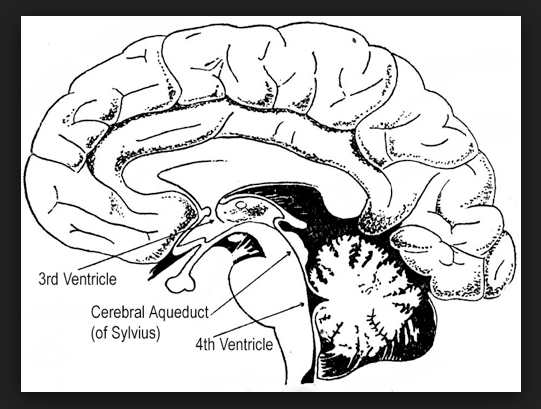 I have to question the reliability of Doppler imaging to diagnose CCSVI since we've seen since such difficulty with this in other studies. But at face value, this research shows that CCSVI may be altering the dynamics of CSF and causing change to the structure of the parenchyma of the brain. That opens up a host of other questions, including if these changes are pathological or pathology-inducing in any way and if the changes reverse when CCSVI is treated.
This was good research to read on a cold Tuesday morning.