Hi all, just wanted to post up a few more pics along with my 4 month anniversary update doohicky I call it. Just for my own curiousity, I delved back into my MRI from 6/2008. I was interested, after having identified the stenosis/collaterals on the "easy to see" MRV from Stanford, could I in fact find evidence for said same on earlier MRI? Obviously back then nobody was poring over the MRI looking for evidence of vein stenosis.
Keep in mind these typical MRI's for us don't go down that far, but far enough that sure enough the collaterals and stenosis DO show up in the lowest parts of the scans. This to kind of give a hint of what it MIGHT look like on someone elses, but it's a crap shoot and there are many artifacts and what-not on these so don't think every thing you see is stenosis or collaterals or whatever. This only works cause I got the MRV cheat-sheet from Stanford...
(Original image deleted by author)
Now diving back into the regular MRI with/without contrast from June/2008, my last bonafide flareup: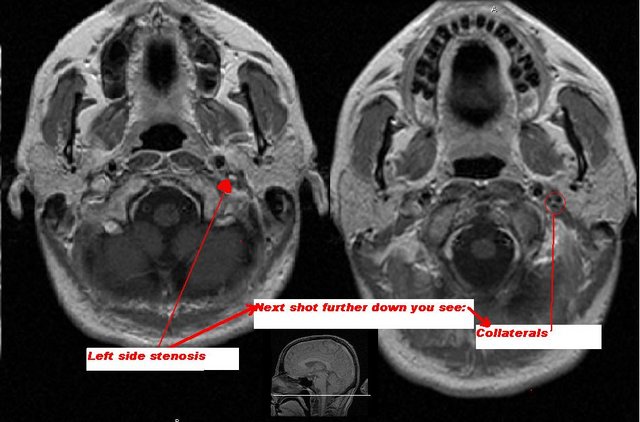 Here is a similiar view from a different series: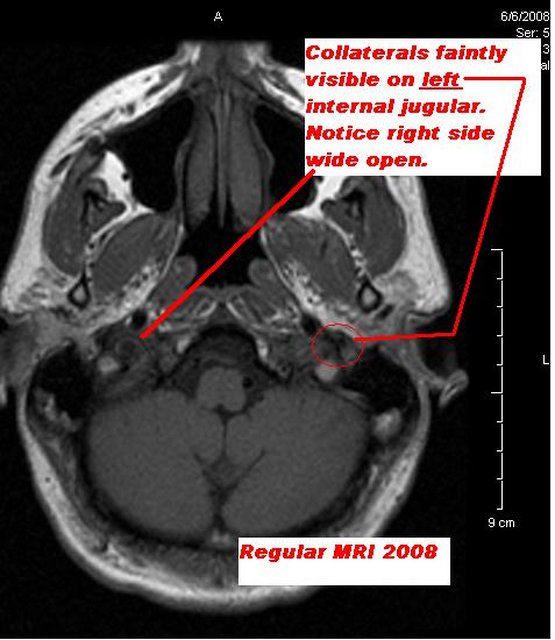 Goes without saying that those collaterals have been there for quite a few years, probably many years. Not much of a stretch to envision that then the stenosis has been there many years too. I doubt those collaterals just "popped up" when my MS did, rather are evidence of a process that has been ongoing for many years, and for whatever reason reared it's ugly head with full force in 2004. Interesting too that I got *most* of the really bad stenosis and collaterals on the left, but it was my right eye that had turned inwards and problems with ON since then.
As far as my 4 month anniversary update, everything is still going pretty good. I saw somewhere mentioned that I was "100%" haha. Yeah right. Like I never had MS, completely cured. Of course not, and I don't think that, and I have days that I feel more "MS'y" (who coined that? Thank you!), but harkening back to the days after my first flare up, when the healing had begun and the eye turned back straight and I got my energy back and MS seemed like a distant memory while it ran like a computer virus in the background, well it's kind of like that. Not exactly but kind of.
I'll always be more than happy to leave some wiggle room here for things to go sideways, but the only thing still bugging me is the tinnitus which had vanished for awhile, but so what? That always plagued me why stop now? Has zero effect on my life other than being irritating like the trains that go by blaring their horns.
Everything else feels like it's been on whatever plateau I happened to land on for the time being, humming along in a predictable fashion on a daily basis. I absolutely despise going to sleep now. Just too much to do. Wake up and hit it, every day, just like clockwork. That's been the greatest part is rediscovering my mornings instead of trying to just survive them. It's such a privilege to come alongside those without 4 or 5 months of CCSVI knowledge which I admit I'm learning new things every day, and trying to help them. Just separating fact from fiction and keeping them focused on the prize, whatever their goal is, but there is of course as we all know, quite a bit of scuttlebutt for people to sort through, as if just getting up to speed on this isn't enough for someone new, now they have to contend with press releases and half-informed media outlets and blogs, it's a wonder anyone *gets it* now.
Am looking forward to Loma Linda getting their gig off the ground with the SWI testing eventually so some more of us stentoteers can get baselined for future people who come behind us. I think all of us stenters owe (besides gratitude that we came out of it *relatively* unscathed, well most of us) our fellow MSers whatever it is that we can bring to the table to assist them along in their journey, be it a link, an email or phone numbers or heck, just sorting out the ABC's of what this theory entails. Some do better at the overarching administration part, some do better at the one-on-one gig, some do blogs like nobody's business, everyone has a place, I am a firm believer in that. So just do what you are good at if you are so inclined to help out others, which I think most of us are, and hopefully in the very near future this machine which is a real bear to kick start, will hum along on it's own at a nice idle...
Ye Long-Winded One, Mark.
_________________
RRMS Dx'd 2007, first episode 2004. Bilateral stent placement, 3 on left, 1 stent on right, at Stanford August 2009.
Watch my operation video: http://www.youtube.com/watch?v=cwc6QlLVtko
, Virtually symptom free since, no relap