I realize there's little need to post monthly updates at this point, as "more of the same" gets needlessly redundant, but as hinted in my other recent post, yes, I am the proud father of a bouncing baby boy, Noah.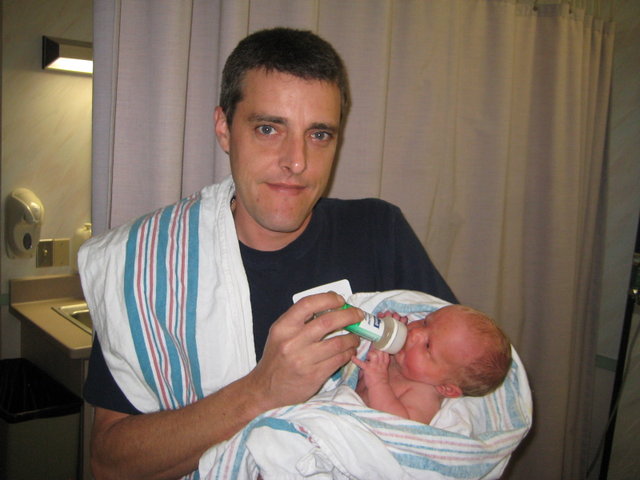 Noah was much on my mind as we made the trek to Stanford last August, having just found out that our 3rd and final child would be coming soon (in the adult world, 8 months is a blink is it not?). I wondered, and frankly worried how my desperately tired person would be able to handle one more baby in the house along with 2 small children, with so little support in the immediate area, and a Daddy that found it so difficult to do more than piddle around the house for an hour or two before "resting it off".
Nevertheless, shortly into it, we decided to make this one a surprise, no ultrasound other than medically necessary, this baby would be a surprise for everyone, son or daughter.
Having recently returned from Stanford into a new lease on life, choosing the name that by itself, implies new beginnings, and can mean "comfort, rest, quiet", we agreed that Noah was proper and fitting, and something we both liked. Yes, we also picked out a girl name too, but I kinda "knew" Noah was coming lol.
Yes, he's keeping us busy, well mostly Mom, but Dad is charged with most of the feeding and care of the girls, trips to and from school, entertaining the 3 year old while Mom naps, all that fun parenting stuff.
It's been a joy to have this child, all those fears of "how am I going to be there mentally and physically when taking out the garbage alone can sometimes take everything out of me", not to mention the heat in this area, failed to materialize, and for that I am truly grateful!
Every day now seems like a whirlwind of activity, just normal life is all, but one thing is for sure, I'm "there" to enjoy every last loving moment of it!
One final tidbit to toss in, my one-year follow up is scheduled early for next month, April 15th.
Mark and family.
_________________
RRMS Dx'd 2007, first episode 2004. Bilateral stent placement, 3 on left, 1 stent on right, at Stanford August 2009.
Watch my operation video: http://www.youtube.com/watch?v=cwc6QlLVtko
, Virtually symptom free since, no relap