Sharon wrote:
I guess Jeff is next up since you decided to jump in front of the line
I am going to delay my annual by a month so that my daughter and I can go together -- girl's weekend is planned!
Sharon
I'm always taking cuts, ask my sisters haha. We're out of here Wednesday a.m. for the third and final voyage/road trip to Stanford, been one heck of a ride that's for sure. At this time last year, there wasn't much hope beyond "more of the same" fatigue and absolute dreading as summer approached, now, just can't find enough hours in the day. I'm driving most of the way, Don will just have to hang on for the ride haha. Sides, driver gets radio! Last year I was passenger both ways, wouldn't even consider driving that far at that time...
Jeff however will be the first true one-year follow up test for a good before/after shot, what a day that will be, maybe a TIMS party is in order.
I'm sure if anything untoward happens in the interim I'll be back there again, but 8 months of *relatively* smooth sailing says otherwise, should one extrapolate that far.... As for now, with July 1 eclipsing the far edge of my COBRA, "it's go time". Make hay while the sun is shining and all that. The one possible "clean up" area in my left IJV is up higher on the left side, also will be investigating oft-mentioned right ear venous hum issue. I think I misspoke previous, as it is all considered "tinnitus" as a general dx, more specifically though as venous hum. Interesting that they mention ligation of the IJV as a possibility in the literature, in regards to venous hum. Not a chance buddy just got those fixed!
It could be on the arterial side too from what I read...
I know at least my neuro will be excited to get a first hand glimpse since he has a stream of my MRI's and MRV's. My GP is networking also, "spreading the word" in his own circles, stuffed his hand with many a paper and images too.. He knows my neuro very well , one big happy family. Good to have both on board.
Wanted to repost the letter to the editor in my local paper for the 3 or 4 people that may have missed it on the other thread where I posted it:

That took minutes to do online, which is an option for many papers now. I'm glad they left in the Alliance mention, also interesting to note, that I didn't write out CCSVI in long form, so they did quite a bit of homework on this to verify everything, which is good! I hope everyone takes a minute or two to compose a quickie response the next time an article appears in their paper. Can't hurt! Hopefully the good folks doing the IRB at Loma Linda read it too lol.
Lastly, I wanted to take a minute to thank Joan for all her hard work, back when it was just "Cheerleader" and TIMS and not a whole lot else, look how far it's come in 8 short months! I'll admit to not knowing all the particulars when I first started here last July, but me and my stents and my wife and 3 babies thank her very much for all her efforts. It's been quite a ride since last August. Quite a ride indeed. Bring on the summer, it don't scare me no more....
Mark.
p.s. I'll be wearing this T-shirt I made up there, might just take a quick tour of the neurology dept eh? Or perhaps a jog...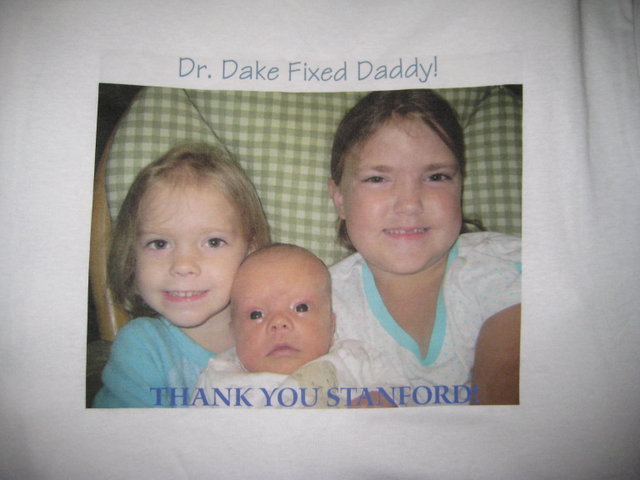 Wanted to toss in also, that the number one thing that I have this year that was in very short quantity the past few years, is HOPE.....
_________________
RRMS Dx'd 2007, first episode 2004. Bilateral stent placement, 3 on left, 1 stent on right, at Stanford August 2009.
Watch my operation video: http://www.youtube.com/watch?v=cwc6QlLVtko
, Virtually symptom free since, no relap