Happy birthday to my stents and a new beginning. 8/04/2009, one year ago today to the hour I was getting worked on.
One year later, well I did something super stupid today to celebrate, or in other circles what is rated as "good times". When I graduated my 5 year apprenticeship in 2000, the agreement was between us students (during the first semester) that if we completed all 5 years, we would go skydiving together.
Alas, 5 years went by and I ended up going alone lol. (Wasn't my idea!). Deals a deal as they say.
So I've had an itch to go again, just one more time is all, but thinking long and hard about it through the intervening years, decided there was no way I could keep my wits about me enough to maintain situational awareness. Best to keep the feet on the ground and watch IOW. The very thought of having cog fog and confusion at 13,000 feet is enough to say no.
Today, it was different, I was amazed at how clear-as-a-bell the mind was at elevation, even in thin air. The best part was, my videographer has a father with MS for 18 years and people on the plane (the regulars) were very supportive and excited too.
Good times, kids were there too, it was a family affair... Will have a 1 year "celebration" video out next week including the jump. To me, the analogies between free falling and free flowing, and the freedoms attached to both, say it all...
Thanks.
Mark.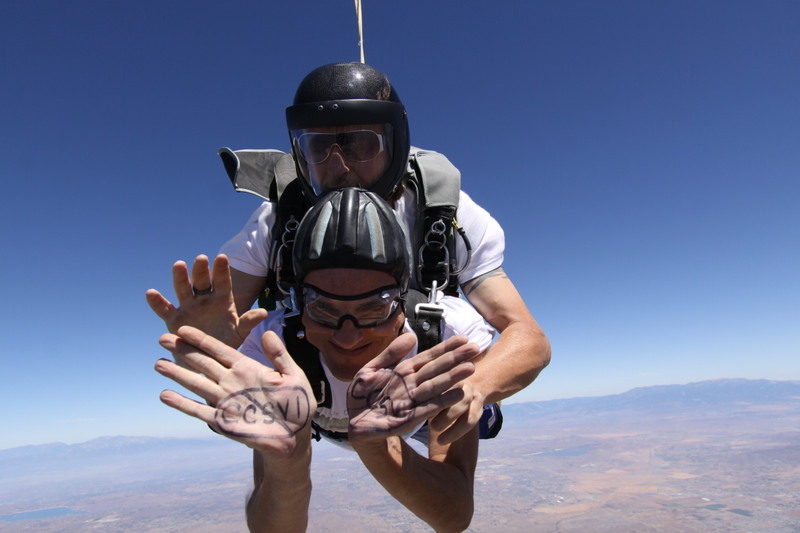 (P.S. I did get Dr's okay to do this)
(P.P.S. wanted to copy/paste the very first post in this thread from August 4, 2009.
peekaboo
Family Elder
Joined: Feb 09, 2009
Posts: 627
Location: Arizona
Posted:
Tue Aug 04, 2009
4:39 pm Post subject: Notes from CureIous' at Stanford
--------------------------------------------------------------------------------
Just heard from CureIous' good friend Don who tells me that he left Op Prep at 4:30pm the op will be roughly 2hrs and recovery about 3hrs. He will be getting double jugs way up high and another set by the shoulder.
_________________
RRMS Dx'd 2007, first episode 2004. Bilateral stent placement, 3 on left, 1 stent on right, at Stanford August 2009.
Watch my operation video: http://www.youtube.com/watch?v=cwc6QlLVtko
, Virtually symptom free since, no relap