gibbledygook wrote:
Not that this is relevant but the private neurologist who diagnosed me said that the 30% reduction in relapse rates from beta interferon was akin to a placebo affect.
It might be if there was no placebo control group. However, I believe that this number quoted for Ifn-B's effectiveness is that compared to placebo. In effect, a 30% reduction in the progression of disability when compared to the placebo group.
The data isn't very impressive, but here's a plot from the Dr's Prescribing Information literature for Avonex.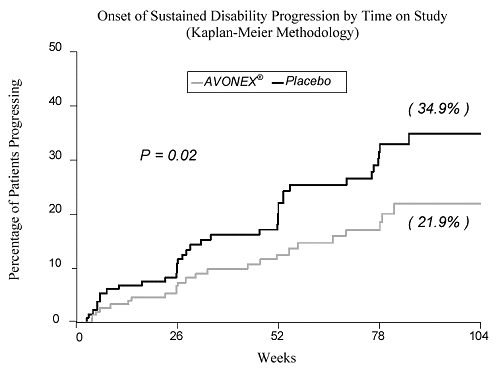 Still, one of the problems with Ifn-B is that the side effects can be rather severe in some individuals. It wouldn't be too difficult for folks in a placebo group to figure out that they weren't getting the real thing. Unless, of course, Biogen was deliberately giving those on placebo a 24 hour flu but then there would hopefully be ethical constraints against such actions. Still, I have read of studies where people in the placebo group have dropped out of a particular study due to the side effects. Now that's some powerful placebo!
NHE