To continue on with the accumulating evidence that MS may be caused by laten viruses that lie dormant in the body until re-activated, and that
regulatory Tcells play a role, here is a new recent discovery that ties into this:
http://www.ncbi.nlm.nih.gov/pmc/articles/PMC2569179/
Quote:
We have identified at least 2 highly promiscuous major histocompatibility complex class II T-cell epitopes in the Fc fragment of IgG that are capable of specifically activating CD4+CD25HiFoxP3+ natural regulatory T cells (nTRegs). Coincubation of these regulatory T-cell epitopes or "Tregitopes" and antigens with peripheral blood mononuclear cells led to a suppression of effector cytokine secretion, reduced proliferation of effector T cells, and caused an increase in cell surface markers associated with TRegs such as FoxP3. In vivo administration of the murine homologue of the Fc region Tregitope resulted in suppression of immune response to a known immunogen. These data suggest that one mechanism for the immunosuppressive activity of IgG, such as with IVIG, may be related to the activity of regulatory T cells. In this model, regulatory T-cell epitopes in IgG activate a subset of nTRegs that tips the resulting immune response toward tolerance rather than immunogenicity.
To explain this a little more, in the immune system there are antibodies generated (called IgG or immunogobulin) that are developed by B-Cells which become
sensitized to antigens (fragments of a virus) and are used to neutralize the virus in the blood as well as activate T-cell to initiate an immune attack.
This is part of Humoral immunity and is one of the reasons why the immune system has "memory". For example, this is what prevents you from re-acquiring a cold once you have already recovered from it.
At any rate, within these antibodies there have been found what has been termed "Tregitopes" at the base (Fc region) of the Y shape antibody. It seems these Tregitopes activate regulatory T cells to shut-down immune responses when viral antigens have been cleared of a site of ongoing inflamation: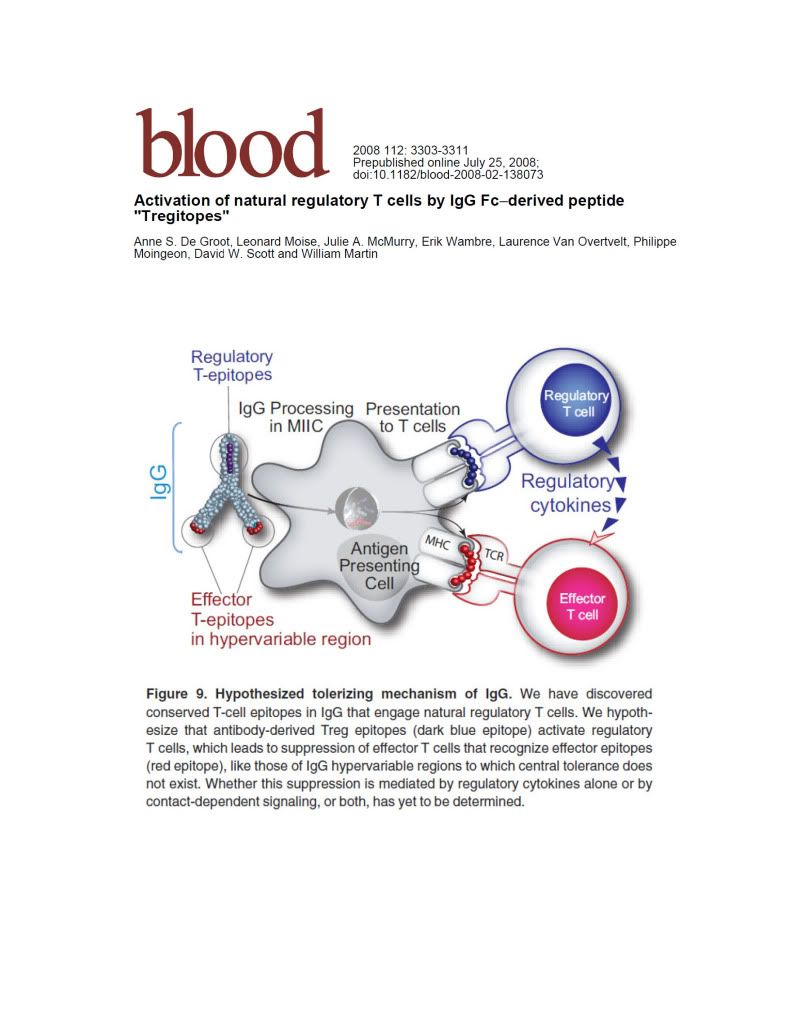 Quote:
When IgG and antigen (either complexed or separately) are internalized into the same APC (and TLR ligands or other "danger signals" are present), the response to effector epitopes may outnumber the Tregitopes, resulting in an initial inflammatory response. As antigen is cleared and the ratio of Ig to antigen increases, the balance tips toward tolerance, diminishing immune response and reducing further tissue damage and adverse systemic effects.
So, the theory is that you have effector T cells that are cross reactive to self epitopes as well as to the viral antigens. Normally when the virus is cleared, the ratio of viral antibodies to virus increases and the regulatory T-cells would be activated to shut down the immune response. But it seems that in people with MS, there are defects in these regulatory T cells (number or function), so autoimunity would occur.
Incidentally, there is a treatment for MS called IVIg, which a product that consists of antibodies obtained from thousands of individuals.
http://www.msadvances.com/faq.php3
It seems that introduction of this therapy has an effect on reducing disease but it was never known why.
Quote:
Further studies need to be performed, but these Tregitopes may provide an explanation for the limited immunogenicity of Fc fusion proteins, the expansion of CD4+CD25Hi regulatory T cells after administration of therapeutic IVIG,8 and the observed effect of immunoglobulin therapy on autoimmune diseases and other medical conditions.