Hi all, this is my official 9 month update, though it is getting a bit redundant, so I tossed in a picture to make it more interestinger.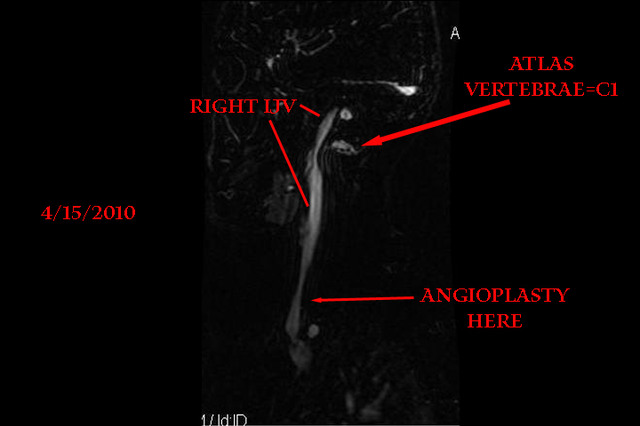 Okay on the upper part, you will see the obvious thin area where the Atlas bone is stressing out the right IJV, this was always there, before the surgery and afterwards. What was stented was further on down below that. This is a very tight area as a few of our pioneers are well aware, and not a spot to be trifled with out of hand.
So basically you had a thin spot, and keep in mind this picture is just one slice, it's not quite as dramatic as it looks on there, but the stenosed area is there, nonetheless. Some of the left IJV is obscuring the view here so there is more drainage area than is readily apparent.
Mind you, none of this showed up on the ultrasound. This is where I take exception to any assertion that this way or that way is the best way to scan, the fact of the matter is, you don't know, and I don't know either, so to tell someone "oh MRV's are junk" because YOU had a negative finding, don't make it so for everyone. Same thing with Ultrasound, it can go either way. If ya can't get it this way>>> go that way<<<< but never give up and take all internet medical advice with a grain of salt, regardless of source, do your own homework, please.
Back to the pic, this got me to thinking about what we've seen so many times already with two very well known areas, the collarbone and atlas vertebrae, where so many stenoses are seen. Came across this:
Titre du document / Document title
Compression of the internal jugular vein by the transverse process of the atlas as the cause of cerebellar hemorrhage after supratentorial craniotomy. Commentary
Auteur(s) / Author(s)
SEOANE E. (1) ; RHOTON A. L. (2) ; YONAS H. (Commentateur) (3) ;
Affiliation(s) du ou des auteurs / Author(s) Affiliation(s)
(1) Department of Microsurgical Anatomy, University of Florida, Gainesville, Florida, ETATS-UNIS
(2) Department of Neurological Surgery, University of Florida, Gainesville, Florida, ETATS-UNIS
(3) Cerebrovascular Surgery, University of Pittsburgh, Pittsburgh, Pennsylvania, ETATS-UNIS
Résumé / Abstract
Abstract
Background
The cerebellar hemorrhage reported in numerous cases after supratentorial craniotomy has uniformly exhibited the characteristics of hemorrhage associated with venous infarction rather than arterial bleeding. The cause has remained obscure, although previous reports suggested that the cause may be obstruction of flow in the internal jugular vein immediately below the base of the skull.
Methods
The microsurgical anatomy of 36 internal jugular veins in the upper cervical region were defined in adult cadaveric specimens using 3–40× magnification with special attention to the relationship of the vein to the atlas.
Results
In every specimen, the posterior wall of the internal jugular vein rested against the transverse process of the atlas as the vein descended immediately below the jugular foramen. In 14 of 36 specimens, the transverse process indented the posterior wall of the vein, causing the vein to be slightly or moderately angulated as it descended across the anterior surface of the transverse process. Three veins were severely kinked as they descended across the transverse process of the atlas.
Conclusions
Obstruction of flow in the internal jugular vein at the site where the vein descends across the transverse process of the atlas is a likely cause of the venous hypertension
that has resulted in the cerebellar hemorrhage reported in numerous cases after supratentorial craniotomy. An examination of the biomechanics of the region confirms that
turning the head to the side opposite a supratentorial craniotomy and extending the neck, common practices with unilateral supratentorial craniotomy, further aggravates the angulation and obstruction of the internal jugular vein at the transverse process of C1 on the side ipsilateral to the craniotomy.
Now obviously, this relates to people who had died of hemorrhage following brain surgery, but on the venous side and not the arterial side. Venous hypertension, we've sure heard that one before.
Mention this only as it relates to the mechanics involved in some cases of CCSVI that we've seen ample evidence of, where that C1 was pinching off the jugular veins.
You can see where the red Atlas bone abuts the blue IJV in this simple picture: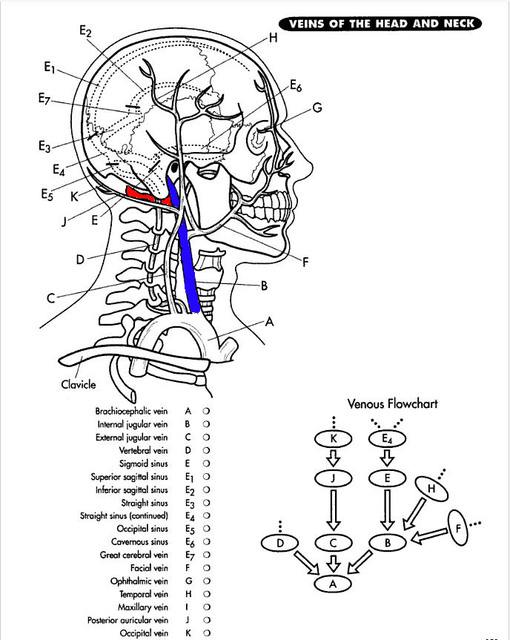 That is precisely the area you are seeing in the scan above.
Understood that this is just a tiny part of a complex, multi-faceted puzzle that is CCSVI/MS, but considering we sleep on that thing and twist it and hyperextend it and pull muscles in and around it, and that it is in a constant state of flux/growth throughout our lives, along with our other bone structures, more specifically our ever-evolving jaw lines, it doesn't take too much of an imagination to see this growth evolving after so many years, and after a tipping point is reached in a goodly number of us, the median years of MS diagnosis in the 30's, the bone growth and change may be implicated here in slowly over many years choking off the return supply from our IJV's to a certain extent, some more than others obviously.
I know this doesn't even touch the azy or explain much more than a simple mechanical issue which may or may not be implicated.
But anytime I see "venous hypertension" my mind says "reflux". I know at least one of our well known detractors (not skeptic, detractor) has insisted our heads would blow up like a balloon if venous hypertension were present, the body has other veins like the vetebrals to take care of the overflow.
Oh really, then why did all these people die of brain bleeds following stenosis of the internal jugular vein after brain surgery? Guess there's more hypertension there than meets the eye eh?
The brain bleeds were on the venous side, not the arterial side. Take a big red crayon and circle that. I see our process, if in fact it goes down that path in the future, as a much slower process than the extreme noted above. The damage accumulates, your veins don't build up enough pressure to rupture or you wouldn't be reading this, but reflux? Slowed perfusion/transition across the brain, lack of freshly oxygenated blood reaching our precious craniums? Fatigue, brain fog, lethargy, lack of short term memory, iron accumulation, cell death, immune system response? Sounds reasonable to me on the face of it...
As far as my anectdotal, placebo initiated effects, they are better than ever and stuck in high gear. I feel like I am only limited by the clock, which gets cursed multiple times per day. I haven't missed a DAY of my newborn son's existence here on earth for the last two months (it's his two month bday today), not one solitary hour, have been there, and I mean REALLY been there, in the game, aware and cognizant of everything that is happening and enjoying every last drop.
Like last week, I phoned my Dr's office on Monday to make an obligatory follow up appt after my angioplasty at Stanford last month. I was told the first available was Thursday at 2:15. No problem. Except I didn't write it down, I didn't
need
to do that. In the past, if that appt. time wasn't written down before they hung up the phone, I was guaranteed to require an embarrassing phone call to "confirm the time", when in fact it was forgotten the second the phone was hung up.
Now, it's absolutely effortless, it just comes without trying. That carries much farther into one's life than mere minutae like Dr.'s appointments. It impacts to the good, every waking moment, just like the opposite impacted to the negative, every waking moment.
And that is why us stentees are still here to keep the hope alive.
Don't EVER give up.
Mark.
p.s. my Dr. is VERY excited and always has been about all of this and is networking big time. He's had every scan taken in his hands and is passing it around. He's also friends with my neuro. Just lucked out on that is all. I try very hard to funnel them as much info as they will take. They have many MS patients between them. Dr's are human too, some can't help to get excited when they see something that has really and truly had a tremendous impact.
Wanted also to mention that thin area up high is where the pressure gradient was measured, before and after my follow up angioplasty. The gradient went from 4 to 0. The collaterals diminished substantially as well. To recap: the valve down below (where the arrow points to) was basically a flap obstructing the flow, all issues of stenosis and narrowing notwithstanding. That's the area that was ballooned. My right ear venous hum has dimished as well, my estimate 50-65% reduction and very tolerable now!!!!!! Instead of a chorus of alternating sounds, it's more steady, lower in volume and therefore much less noticeable. Makes sense, if the flap is holding up the flow, and it's been "unstuck" then the flow is more laminar and less stop-and-go, which creates the variations in pitch!