JackD recently posted the following information about vitamin E.
natural-approach-f27/topic18562.html#p186531
In nature, eight substances have been found to have vitamin E activity: alpha-, beta-, gamma- and delta-tocopherol; and alpha-, beta-, gamma- and delta-tocotrienol.

Often, the term vitamin E is synonymously used with alpha-tocopherol.

Tocotrienols, formerly known as zeta, , or eta-tocopherols, are similar to tocopherols except that they have an isoprenoid tail with three unsaturation points instead of a saturated phytyl tail. Although tocopherols are predominantly found in corn, soybean, and olive oils, tocotrienols are particularly rich in palm, rice bran, and barley oils.

Tocotrienols possess powerful antioxidant, anticancer, and cholesterol-lowering properties.
Prompted by this information, I put together the following diagram to illustrate all of the 8 different structures of vitamin E.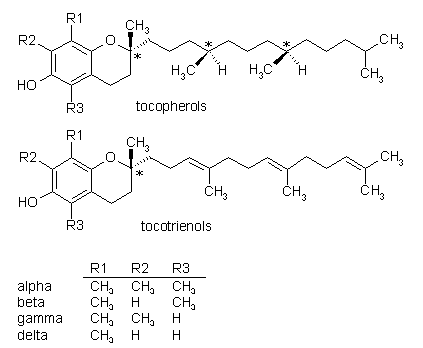 In addition to the different methyl group substitution patterns on the ring system between the alpha, beta, gamma and delta forms, the asterisks indicate the position of chiral carbons. These are carbon atoms which can have their attached atoms exist with different three dimensional geometry. The word chiral is derived from a Greek word which refers to hands. Much like our hands exist with mirror image non-superimposable geometry, so do these carbon atoms. The wedge shaped bonds come out of the plane of the page while the dashed bonds go into the plane of the page. The only way to get the mirror image form is to break and make new bonds, e.g., putting one of the methyl groups on a back pointing bond and putting the hydrogen on the front pointing bond. Thus, the two different configurations exist as isomers. These are called optical isomers, referring to the mirror image forms, or enantiomers. Each chiral carbon can exist in one of the two forms which are designated as R or S.
Natural vitamin E only has the chiral carbons in the R configuration. Thus, natural alpha-tocopherol can be described as RRR-alpha-tocopherol (as shown in the above diagram). When molecules are synthesized in the lab, all possible combinations of each of the R and S forms are produced. Since there are three chiral carbons in tocopherol, there will be eight, 2
3
=8, different isomers formed. Synthetic vitamin E is labeled as DL- though this is misleading as it suggests that there are only two isomers. Since there are a total of eight, natural vitamin E, or the RRR isomer, is only 12.5% of the total. Our cells posses a vitamin E receptor which only fully recognizes the RRR enantiomer. This helps to illustrate why studies done with DL-alpha-tocopherol are a pointless waste of both time and money unless your study is sponsored by a pharmaceutical company that wishes to discredit natural supplements
.
All of the eight enantiomers of DL- vitamin E are listed below.
1 2 3


R R R
R R S
R S R
S R R
R S S
S R S
S S R
S S S
Lastly, as we have learned from posts by JackD, Jimmylegs and others, taking alpha-tocopherol, even the natural RRR form, can upset the equilibrium of the other different beta, gamma and delta forms with potentially serious consequences. The solution, eat foods rich in vitamin E or take a balanced natural supplement which contains all of the different alpha, beta, gamma and delta forms.
NHE